TV or Radio, everybody has talent. Getting What You Want by Being Who You Are.
A successful former major league baseball player is now doing major market radio and TV, and still enjoying the game he loves. Marlon started his career with the Phillies, and later played for the New York Mets, Washington Nationals, and the Los Angeles Dodgers.
Marlon known for his utility play, and for his many clutch hits, and writers for The New York Times and Newsday referred to him as one of the best pinch-hitters in the game.
After baseball, Marlon was seeking to improve his radio and TV skills and solicited the help of  Harry Lyles of The Lyles Media Group.
---
The Sports Show with Reese & KMac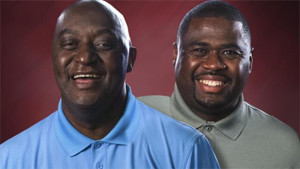 "The Sports Shop with Reese & Kmac" and the morning fun is live every morning on 99.3FM/96.5FM/620AM/99.9HD2. The show will also stream (audio/video) at WRALSportsFan.com and with the WRALSportsFan App.
"The Sports Shop" will be the first African-American sports talk morning show in the Raleigh-Durham market. These guys started out on AM and with the guidance of Harry Lyles in no time at all are now major morning drive talents.
---
The Lyles Media Group coaching philosophy works for all on-air clients. It's about helping each individual be who they are. You are your own message. That message can be so compelling and appealing that even your most stubborn detractors will see the merit of your ideas.
Questions about getting started start with a call or email. Say Hello: 770.594.7171 or email.